Discover more from The Sizzle Report
The Sizzle Report is curated independent journalism for smart readers.
Hunter Biden Chaired World Food Program That Wins Nobel Peace Prize vs Eric Trump Deposed In Fraud Investigation!
Support female-driven journalism: Subscribe and Share
Hunter Biden served as Chairman of the World Food Program which just won the Nobel Peace Prize. In contrast, Eric Trump, Donald J Trump Jr and Ivanka Trump are all permanently banned from operating a charity again. Why? Because they ALL reportedly stole donations from children with cancer.
After months of delays, Eric Trump was questioned under oath last Monday. The Trump Organization is being investigated by New York's attorney general Letitia James into Tax fraud.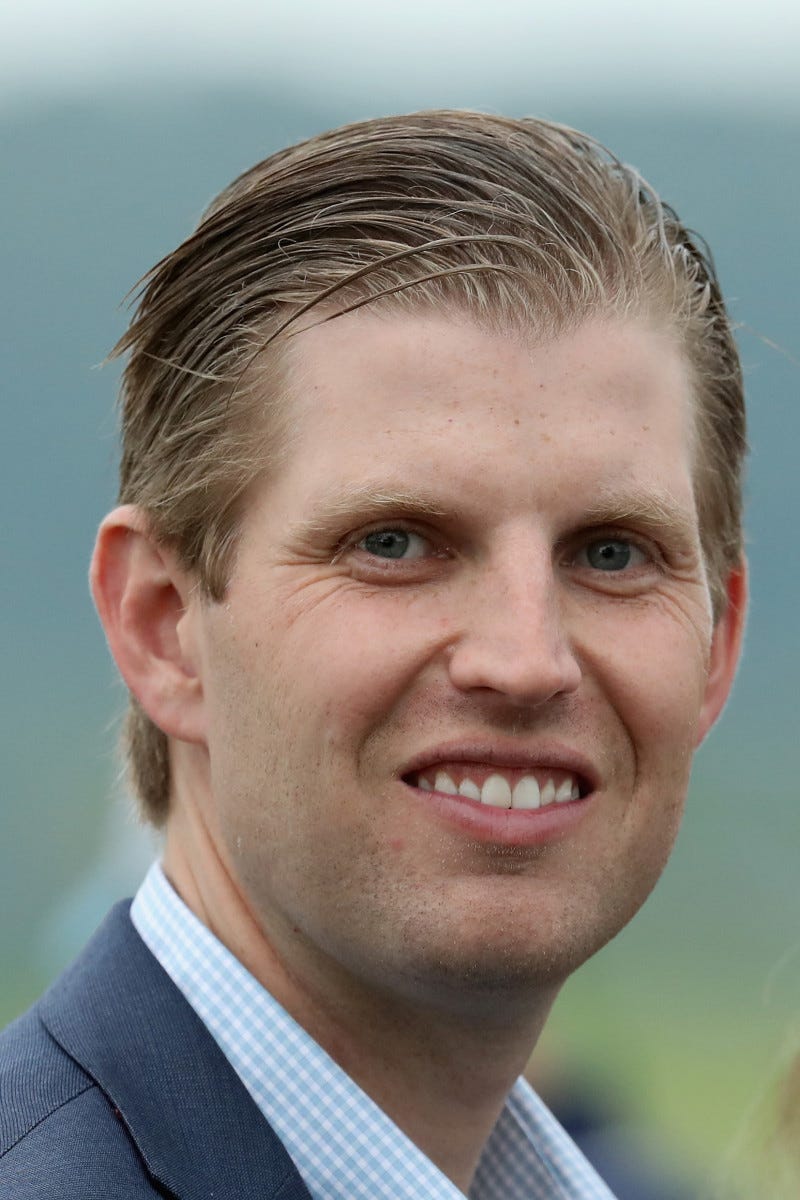 Last month Eric Trump bragged on Fox News radio that he is "not at all" worried about the investigation being conducted.
Eric then whined about AG James, "First of all, I think she needs to recuse herself, I mean I really do, and I think the ethical violations in doing what she's doing is truly horrible."
Last month in a court filing, signed by the deputy to AG James, the NY attorney general's office stated that it is investigating Donald Trump's use of "Statements of Financial Condition." These are documents that the Trump Organization sent to lenders to declare his assets and debts.
Michael Cohen Testified
You will recall that Michael Cohen testified about this to Congress. Cohen testified, "It was my experience that Mr. Trump inflated his total assets when it served his purposes, such as trying to be listed among the wealthiest people in Forbes, and deflated his assets to reduce his real estate taxes."
AG James' Office Had To Request A Judge To Compel The Trump Organization
AG James' office is requested that a New York state judge compel the Trump Organization to provide documents and information that it has been withholding.
Her office has stepping up the investigation into whether Donald Trump, Eric Trump and the Trump Organization committed multiple acts of fraud by inflating assets to secure bank loans.
Eric Trump canceled a previously scheduled deposition in July.
One Standard For Trump, Another Standard For Everyone Else
Eric Trump was reportedly going to plead the Fifth Amendment. It's unknown if he did or if he answered questions.
Last month AG James Posted A Series Of Tweets
James Tweeted, "Nothing will stop us from following the facts and the law, wherever they may lead. These questions will be answered and the truth will be uncovered, because no one is above the law."
She continued, "The Trump Organization has stalled, withheld documents, and instructed witnesses, including Eric Trump, to refuse to answer questions under oath. That's why we filed a motion to compel the Trump Organization to comply with our lawful subpoenas for documents and testimony."
She finished with, "I took action to force the Trump Organization, and specifically EVP Eric Trump, to comply with my office's ongoing investigation into its financial dealings. For months, the Trump Organization has failed to fully comply with our subpoenas in this investigation."
Eric Trump Stole Money From Kids With Cancer?
In June 2017, Forbes reported that the Eric Trump Foundation shifted money intended to go to cancer patients into Trump family businesses.
Forbes reported that more that $1.2 million dollars when straight into the Trump Organization. 
Donald Trump allegedly donated funds from his foundation into the Eric Trump Foundation and then used the money to fund his golf courses. This sounds more like a drug-cartel money laundering scheme than a charity. 
We Get All The Funding We Need From Russia
Donald Trump is still in court fighting against the release of his tax returns. These tax returns will prove exactly how much money he has borrowed from Russia over the years. The New York Times reportedly has them. Trump paid $750 dollars in taxes for 2019.
Eric Trump reportedly revealed in a 2014 interview with golf writer James Dodson that Russia funded the Trump family golf resorts "all the time."
According to Dodson Eric Trump bragged, "Well, we don't rely on American banks. We have all the funding we need out of Russia."
Donald Trump appears to have loans of over $400 million dollars. America can't wait to find out what Eric had to say about that.
Please support The Sizzle Report by subscribing now—It's FREE and really helps us a lot.
P.S. If you'd like to support us with a one-time donation, we've added a "buy me a coffee" option.
Share this post with your followers: